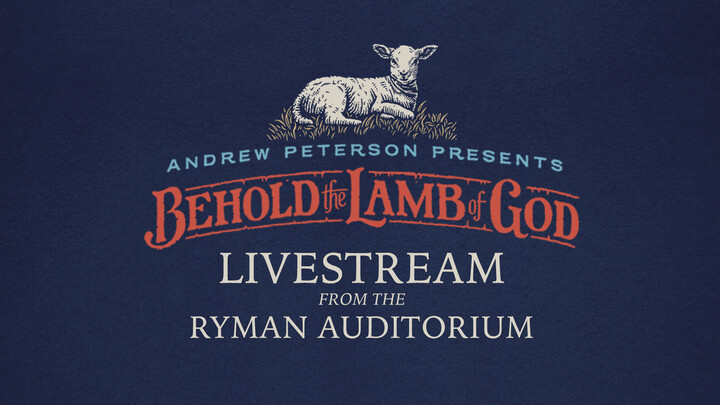 Sunday, December 10, 2023, 5:00 PM - 6:30 PM
Join us for food & cookie decorating before a livestream of the Andrew Peterson "Behold the Lamb of God" concert which tells the full story of Jesus through song.

The whole Bible points to Jesus. There is no better Christmas album that beautifully captures this reality than Andrew Peterson's "Behold the Lamb of God"!

SHOW DESCRIPTION:
Join storied Nashville singer-songwriter and author Andrew Peterson with guest artists The Arcadian Wild, Jess Ray, Jill Phillips, Andy Gullahorn, Andrew Osenga and Skye Peterson for the Advent song cycle Behold the Lamb of God: The True Tall Tale of the Coming of Christ. The concert brings the singing and playing of Peterson's original folk-roots infused rendition of the Christmas story as it is foreshadowed in the Old Testament and brought to bear in the New.
ABOUT ANDREW PETERSON:
Recording artist, songwriter, producer, filmmaker, publisher and award-winning author of The Wingfeather Saga series, Andrew Peterson is also host of The Rabbit Room, which fosters Christ-centered community and spiritual formation through music, story and art, and recently launched a film and TV production company, Shining Isle Productions, to produce an animated series based on his bestselling books. Known for songs like "Dancing In The Minefields," "Be Kind To Yourself," "The Reckoning," "Don't You Want To Thank Someone," "The Silence Of God," "Nothing To Say," "You'll Find Your Way" and more, Peterson has also been named "one of the foremost singer/songwriters around" and has received multiple "best album of the year" nods from critics along with two Dove Award nominations. Taking his hits and fan favorites on the road, Peterson's touring draws capacity crowds at venues around the world, including several sold-out events at the historic Ryman Auditorium in Nashville. Andrew-peterson.com