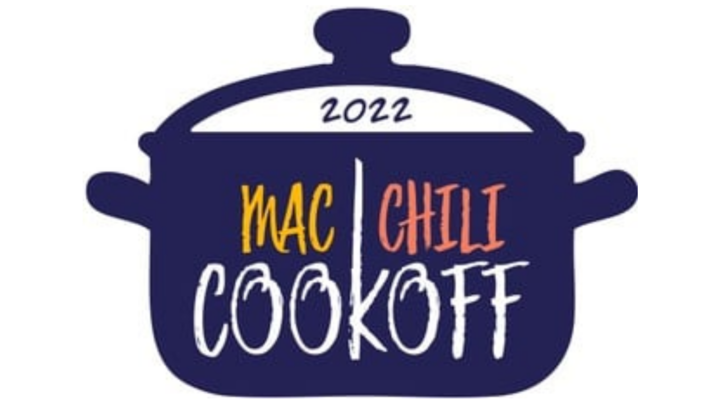 Saturday, February 26, 2022, 11:00 AM - 2:00 PM
Announcing the 8th Annual 2022 MacChili Cookoff, presented by the students and friends of Pursuit Student Ministry at Celebration Community Church.
This year's event will be held rain or shine on Saturday February 26th from 11 a.m. to 2 p.m. at the Celebration Campus in the Fountain Square and Community Room.

Online registration for competitive cooks, event tickets, sponsorships and bake sale donations is now open. Please register HERE.

Four categories are open for the competition:
Traditional Chili
Chili Nuevo (Non-traditional)
Chili Mac (Mac n' Cheese and Chili in one)
Mac n' Cheese
Advance Ticket Sales and the sign-up for donation of items for the bake sale is also available here.

This is the annual opportunity for our community's passionate cooks to share their phenomenal chili, traditional or nuevo, chili mac or mac n' cheese with each other and fellow gastronomes! Dishes will be adjudicated by a team of local Celebrity Chefs for each category and all dishes will be competing for the vaunted Golden Spoon Aware as the dish selected as best in show by the ticket holding taste testing attendees!

There will also be awards for the for best booth theming and the Kids 44 Challenge ticket sales contest.

Delectable bake items donated from our community's avocational bakers will be available fresh for sale and immediate consumption.

Youth Baristas will be selling hot coffee, blender mochas and artisan waters from the fountain in the square.

The entry fee for competing cooks is $25 which will include half a banquet table for presentation, electric power, tasting cups and thematic booth display space.

A $5 admission ticket will entitle the holder to sample all the dishes and vote for their favorite to win the Golden Spoon Award.

Booth sponsorships are available for individuals, groups and businesses. Ask a Pursuit Student for details and go online to the registration site to donate. Our popular line of Celebration Community "Church Merch" will also be available for purchase at the event. A portion of each sale benefits the Pursuit Student Ministry.

Ample free parking.

Register online to donate baked goods. All proceeds benefit the Celebration Church Pursuit Student Ministry.