Robert Wood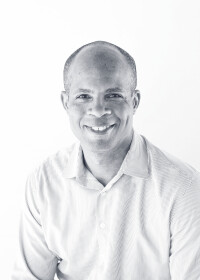 Responsibilities:
Elder, serve on the Connections & Communion Team, Special Events/Creative Arts
My faith journey:
I was born and raised in a Christian Science household, but had a crisis of faith at 15. I came across a text from "Science and Health: Key to the Scriptures" that seemingly contradicted the Bible itself. I investigated this issue further with my mother and the practitioners at the church. Their answers were not satisfactory. So I became that "good moral" kid eager to see what the world had to offer.
In college, I became friends with a Christian who I deeply respected. He and I spoke on a regular basis. But, I still struggled with believing the Bible as absolute truth. After college, several people approached me claiming that their religion was true. I knew they all could not be right. They could all be wrong, but they could not all be right. However, in 1995, God would use my girlfriend (now wife) and a tele-evangelist to change my heart.

So for 22 years, I've grown more amazed and thankful of His choosing to call me out of darkness into His marvelous light. Oh, how glorious it is.

Family:
Wife of 18 years: Fredrica
Five children: RJ, Trinity, Samyra, Gabriella and Alexa
Passions for the Kingdom of God:
Apologetics, Creative Arts, Marriage and Parenting, Community Outreach
Places I've lived:
Born in NYC
Lived in Los Angeles
Planted roots in Orlando
In my free time, I love to...
What free time? Didn't you read that I have 5 kids? Joking!
Ballroom dancing (I would love to participate in a competition with my wife), play softball, amusement parks (thrill seeker), movies, cooking, gardening

Books I recommend:
Systematic Theology by Wayne Grudem
Screwtape Letters by CS Lewis
Tactics by Greg Koukl
Growing Kids God's Way by Gary Ezzo
Reaching the Heart of Your Teen by Gary Ezzo